Philosophy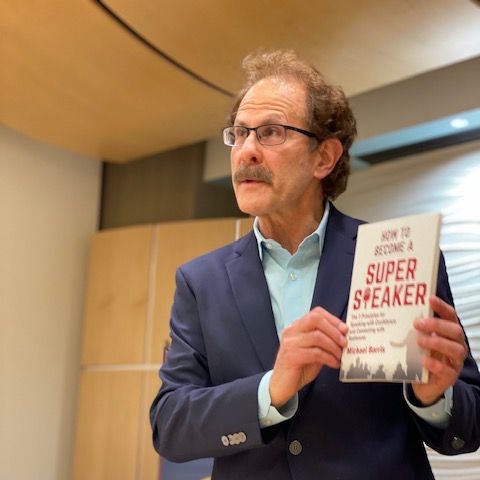 WHY I WROTE "HOW TO BECOME A SUPER SPEAKER: THE 7 PRINCIPLES FOR SPEAKING WITH CONFIDENCE AND CONNECTING WITH AUDIENCES":

I was tired of hearing so-called experts approach public speaking training the wrong way - over-emphasizing the importance of meeting the needs of the speaker while under-emphasizing the importance of meeting the needs of the audience.

Often, if you read some of these books or listen to what's being said in these clubs or courses, you might come away thinking that public speaking takes place in a vacuum - or in front of no audience at all!

But of course that isn't the case.
Everything in speaking starts and ends with the audience.
You wouldn't have a talk at all if you didn't have an audience willing to listen to it. Or to give you an opportunity to get and hold their attention for 20, 30 or 40 minutes. 

So, determined to write a reader-friendly book that put the emphasis where it belonged - on the audience - without adding excessively to the public's already high anxiety over speaking, I gave new and aspiring leaders a short and delightfully easy-to-digest training guide to help them get the speaking skills to cross the threshold to their next promotion. 

A READER-FRIENDLY GUIDE TO PUBLIC SPEAKING
In my 107 page volume, I boiled down the speaking challenge to seven principles for being engaging and for speaking with power, giving readers the tools to prevent emotional roadblocks related to mindset, technique or stagecraft from ruining their spoken message.
I included numerous reflection exercises to get the reader emotionally involved and active, because I know, as a longtime educator (I'm a former Rutgers University public speaking adjunct professor), people learn best by doing. 

My experiences as a journalist with numerous publications, including Dow Jones Newswires and The Wall Street Journal, communicating with global audiences, and as a longtime musician who had to know how to grab and hold the audience's attention to get a callback from a club owner (or a tip from a customer) also went into the process of producing a reference work that would be both useful and entertaining to read.  

When I was done, I knew I'd created a work that could help a lot of people.

THE INSPIRED PRINCIPLES IN ACTION (IPA) SYSTEM

I built a system around it called Inspired Principles in Action (IPA) to help audiences for my talks and my coaching clients overcome core speaking challenges.

The three issues that seem to vex people in business most are speaking with impact, managing speaking anxiety and explaining technical things to non-technical audiences.

As a result, my talks and presentations drill down to help audiences cope with these particular problems.

In addition to helping individuals become better speakers and get promoted, there is a huge benefit for HR professionals and other talent development professionals who put employees into this cutting-edge speaker training system. 

By showing high-performing employees exactly what steps they need to take to achieve their full potential, the system is helping managers and HR pros achieve their long-term employee retention goals.
Reviews from Readers
On my book:
"Michael Barris makes the idea of speaking in public fun and not intimidating. I recommend this book for anyone who cares to improve their public presentation abilities. It's great for adults and young people."   
~A New Jersey sales associate 
"Michael colorfully and concisely walks the reader through the core principles of speaking beyond the obvious. I wish I could give a copy of this book to every person I meet who wants to improve their public speaking because this is everything you need to know!" 
~A happy Amazon customer 
"Being a non-native English speaker, public speaking is always challenging for me. Michael used real-life stories to make the reading fun and skills easily memorable. It's a must-read for any serious speaker." 
~Wendy H
"Lean, clean, and actionable. Solid advice."  
~American business consultant and author Price Pritchett