7 Core Speaking Principles
The key to succeeding as a speaker in any setting is being open to the emotions in the room.

That means you must learn to overcome any obstacles that block you from sensing and reacting to the mood in the performance space.

In my talks I show my audience how to use my 7 principles for speaking with confidence and connecting with audiences to step into the audience's shoes and formulate the exact steps to overcome core speaking struggles and engage the crowd.
THE 7 PRINCIPLES FOR SPEAKING WITH CONFIDENCE AND CONNECTING WITH AUDIENCES

Copyright 2020 by Michael Barris
1. Make Delivery the Priority. Content is important, but nothing in public speaking matters as much as the way you convey your message to the audience.   
2. Put on a Show. No matter what type of presentation you're delivering, you're putting on a "show" and need to play to your viewers, which an eye and ear to their emotional state.   
3. Display Personality. While a speaker has many tools with which to enthrall listeners, letting audiences see his personality may be the most compelling.   
4. Feel the Fear but Keep Practicing. Learning to deal with fear is part of growing as a speaker. If you persevere even as panic grips you, you will gain confidence that will both improve your speech and let you gauge the mood of the room and engage in a generous give-and-take with the audience.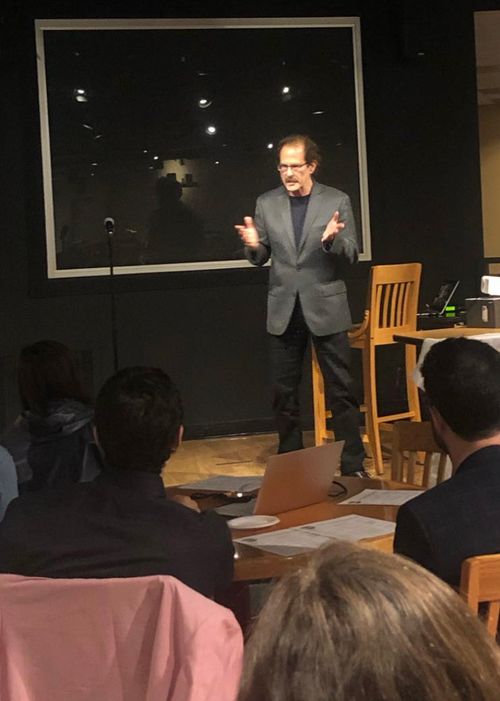 5. Give the Audience a Reason to Care. Including a few contextual details explaining why your content matters to the audience helps them answer the burning question: Why should I care about this topic?  

 6. Reveal What's Inside You. Audiences will connect with you and remember you if you let them catch you in the act of expressing emotion.  
7. Make Things Easy to Follow. Make it simple for audiences to follow your narrative, since they can't play back something you said.    
Copyright 2020 by Michael Barris